The Breeder Blog
Our Most Recent Product: Ranch Hand Relief's Jerky Bit Pet Treats
by Cody Whittington on Jun 24, 2022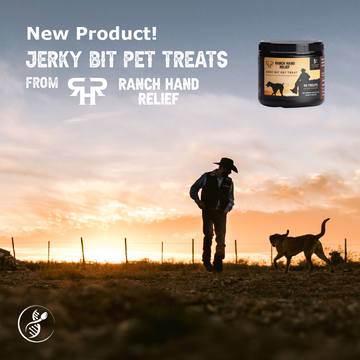 We are excited to announce a new product we are offering here at My Breeder Supply. Everybody deserves a treat once in a while, especially our furry friends. They help us through our best and worst times. Giving them a treat is the minimum we can do to thank them for all their work for us. 
Buying a treat for your pet is not as simple as it may seem. Many options are available, but they are not all good or healthy.
Since your pet deserves only the best, we'll talk about what you should look for and avoid in a dog treat. We'll also introduce Ranch Hand Relief's new Jerky Bit Pet Treats and discuss why we love them! 
What Should You Look for In a Dog Treat?
The ingredient list is the first thing you look at when shopping for pet treats. You want the list to be short and include high-quality items. Choose a treat with a good protein source like Ranch Hand Relief's 100% real USA beef jerky bit pet treats! Avoid artificial sweeteners, flavors, and colors. Stay away from meat by-products because these ingredients are low-quality.
Your furry friends need to experience relief when they need it most. Why do we love the Jerky Bit Pet Treats? Treats are for pleasure but select a treat with a health benefit. Not only are they delicious, but they also contain full-spectrum hemp extract to relieve your pet's joint and muscle pain. Your furry friends need to experience relief when they need it most.
Why You Should Try the Jerky Bit Pet Treats
From the brand Ranch Hand Relief, the jerky bit pet treats are 100% USA-made. They contain only the best ingredients and are made with real beef that is ranch tested and ranch approved. The treats are nutritionally balanced with a tase your pet is sure to remember. After all, life's too short for bad treats.
Ranch Hand's treats are perfect if your pet suffers from inflammation and chronic pain caused by arthritis or hip dysplasia. Each treat contains 5 mg of cannabidiol. This active ingredient relieves pets suffering from joint, muscle, or generalized pain. 
Seeing your beloved pet in pain can be distressing, so Ranch Hand Relief decided to create a product that would help pets and owners. If your dog has a condition that causes them to have chronic pain, get your hands on the Jerky Bit Pet Treats right away. See them become happier, more relaxed, and back to their usual self. For only $39.95, you might be able to give your best friend the relief they deserve. Purchase your Jerky Bit Pet Treats today!