The Breeder Blog
Your Preferred Breeding Supplier
by Cody Whittington on Apr 05, 2021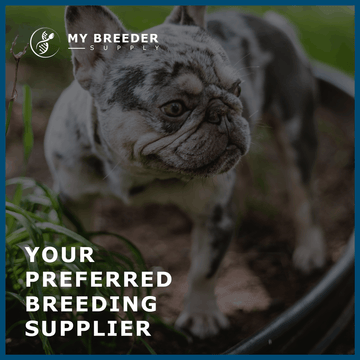 This is My Breeder Supply, your preferred breeding supplier! We are a family owned and operated company, so when we say we are here for you, WE ARE. My Breeder Supply cares for our clients and their animals, we know what it is like to not get the best support and care.
That is why our mission is simple, to provide the very best support and care for our animals and clients. We use all the products we sell, and are not some company who tries to sell products we don't use ourselves. At My Breeder Supply we firmly believe in our products and they work! Thats why we use them. We are always on a quest to find and develop products and techniques to make our clients more successful.
Our company has over 20 years of successful breeding experience. We have learned about our products and the art of successful litters through our own trial and errors, so you do not have to make the same errors as us. As James Chopping says, "The secret to stepping in poo is that when you wipe it off your shoes, you don't step in it again."
We have many products from test kits, puppy care kits, to incubators, and progesterone machines. If you want to do it yourself we have all the right supplies for you. If you are not sure how one product works or how to use it, we even have videos available to show you how! Or if you would rather talk to one of us we are available and ready to help with any questions you may have.
Again, We Are Here For You
Do you have questions about breeding? We help you through the process, the pregnancy, the c-section, & the whelping. We have the expertise & the products to back it up. Please do not hesitate to contact us. You can visit our website at mybreedersupply.com or can call us at 806-664-0173.